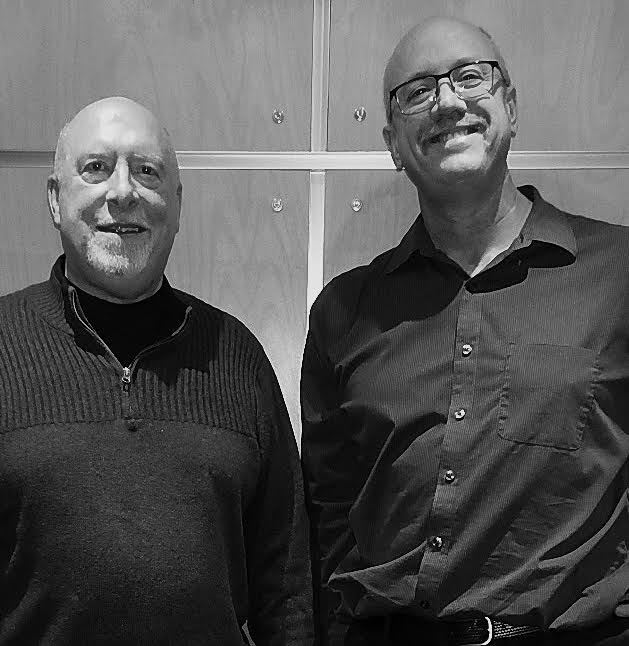 The story of finn daniels ARCHITECTS is one based upon a history of connections with people & growth from relationships. Mark "Finn" Finnemann & Dan Dege met while working for a Twin Cities restaurant design firm in the late 1970's. In 1982, that firm collapsed in a recession. Finn was fortunate enough to maintain a relationship with two of his clients, providing enough consistent work to build upon. One person firms are hard to maintain, so Finn asked Dan to join him in the summer of 1982.
Finn Daniels Architects was officially incorporated in 1984, combining the names of the two founders. The early days were tough. Their first office was in a basement boiler room of an office building Finn's dad owned. They offered up their services for very little, even known for accepting payment for restaurant design services in free food. They learned early on that having an understanding of the entire project, including engineering & equipment design, was going to be key to their success & growth. Gaining confidence in their clients and local developers, their network grew from restaurants, into multi-family housing, and into design-build office/warehouse developments.
By 1988, Finn Daniels was finally seeing steady work and was able to hire its first official employees. Scott Wiestling was hired on for drafting support and Linda Dege was hired to take care of all the administrative duties of the office. A tour of western Burnsville, MN showcases a large majority of Finn Daniels work in the late 1980's to early 1990's.
In 1990, Finn & Dan welcomed another partner to the table. While the partnership did not last, it expanded Finn Daniels' network and introduced us to the retail sector. Working with retail clients like Christopher & Banks, Wilson's Leather, and Schmitt Music paved the way for the extensive retail work we still do today. With the retail segment came great growth at Finn Daniels, including growing the staff by hiring Drew Magnuson in 1990 & Greg Dahling in 1995. This growth also led to moving offices into the Midway neighborhood in St. Paul and establishing a new client network: property owners looking for leasing plans for their buildings. We continue to work with many of these clients yet today.
Over time, our clients have grown to appreciate the in-depth surveys we provide, the internal red line process of plans to minimize change orders during construction, and the personal relationships & care provided to each client. Clients trust in us has allowed us to continue to grow, moving into our current home in the Highland Park neighborhood in St. Paul and bringing Becky Olson to the team in 2010. It's that same trust that's allowed us to grow into a number of other new sectors including automotive, housing redevelopment authorities, and corporate headquarters design.
We consider all those we work with to be our partners, whether it be a client, contractor, or consultant. Our roots have brought us to the success we see today and we look forward to the exciting new projects yet to come.